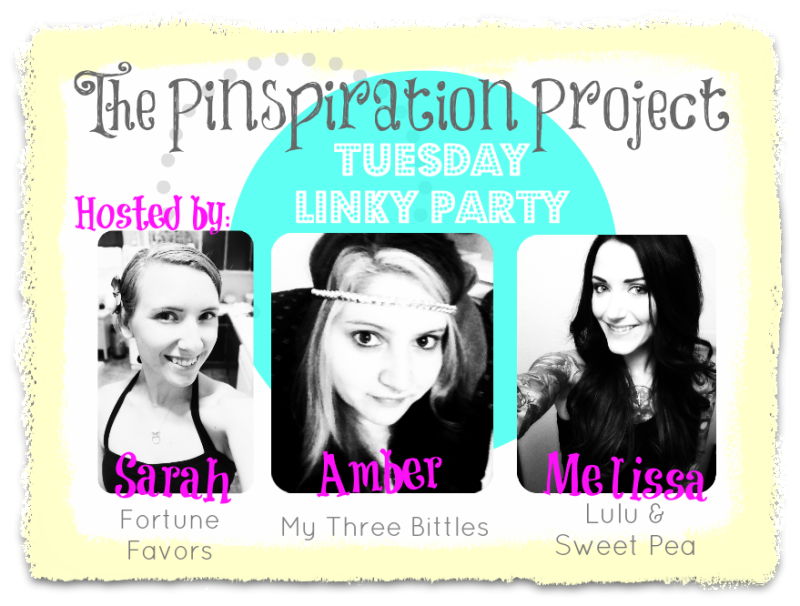 My friends, Amber from My Three Bittles and Sarah from Fortune Favors the Brave, and I
got together and decided we wanted to all host a linky party together. Why? Because the three of us are awesome and share a brain. No literally...like we finish sentences for each other. And like the rest of the blogging world, we all love Pinterest and spend countless hours getting sucked into it. Sometimes we actually DO things from Pinterest too. Wait, you didn't know that you were supposed to do more than just pin obsessively & daydream about projects you'll never ever get around to doing? Ok, well I guess you can do that too.
Our link up is simple: every Tuesday you can come to any or all of our blogs to link up any Pinterest inspired project that you've done. It could be recent or it could be something you did a while ago & you just want to share. It doesn't even have to be any good. It could be an Epic Pinterest Fail and we still wanna see it! If you've blogged about it & have some pictures to show it off, link it up and tell us what happened. Or if you've seen something that's just blown your mind but you haven't gotten around to actually trying it yet you can still just link up to some Pinterest Favorites or whatever. Who knows, maybe one of us will be inspired to try your pin!
The Pinspiration Project will go live on Tuesday.
The link up will last until Saturday.
Throughout the week we will give little shoutouts to some of the link ups, so make sure to follow our blogs, Twitter, and Facebook to watch if we mention yours! Every week each host will post the top-clicked link from that week's TPP, along with our personal favorite as well. You can find my TPP most clicked & favorites every Monday in my Weekend Wrap Up.
Even if you forget to actually try something from Pinterest, we don't mind if you link up some Pinterest lovin' every now and again. Just make sure to TRY to remember for the following week.
Spread the word. Share The Pinspiration Project love.