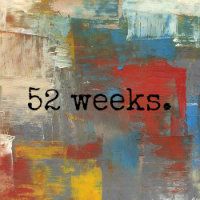 It's called
52 Weeks of Kindness
, and it's all about random acts of kindness, good deeds, and paying it forward. The whole idea is to link up each week and post about your random act from that week. It could be one kind thing you did for a stranger, or it could be a list of various nice things you did throughout the week. The point is to give people inspiration to spread some joy in the world by helping out someone in need. Even if you can't afford to do something like buy coffee for the person behind you, that's OK. An act of kindness doesn't have to be about
money
. It can be as simple as putting your neighbors garbage cans out to the curb for them on trash day. Easy, simple,
FREE
, and most of all, it brightened someone's day.
My act of kindness started when my son Ayden brought this home in his backpack:
I try to donate to stuff like this when I can, so I was excited to pick out a few items on the list when I was at the grocery store. Here's what we ended up donating:
6 boxes of instant hot chocolate (48 servings), 3 toothbrushes, and 3 travel sized toothpaste.


My son helped me deliver them to his school and he proudly told the ladies in the office "There's 48 packs of cocoa in here! That's like...almost 50 or something!" Silly kid. I love that he's so excited about helping people.
I'm linking up on Amber's blog for
52 Weeks of Kindness
week 6. Hope you come and check out everyone's good deeds. Amber's just so happens to be an act of kindness for ME, and involves this adorable Valentine's Day banner. She's the best!