Welcome to 50 SHADES OF STUPID!
The Brand New Link Up where we tell on all the stupid things we do and say!


Now, it's YOUR turn, Grab a button, tell me something dumb you did last week,
last month, last year, 14 years ago...or maybe something you do regularly!
I am ready to get my giggle on. You know, the giggle you get when you are alone.
At your computer. Smiling like a monkey. That giggle.
Grab a button, link up, follow me and my two co-hosts this week,
and make us laugh. My 2 Co-hosts this week are:
Miki from
Becoming What I Always Was
Melissa from
Lulu And Sweet Pea
This week I'm so stoked to be co-hosting 50 Shades of Stupid with Julie from
The Funny Thing Of It Is.
This gal is hilarious...not to mention gorgeous, and I love her blog. I
jumped
at the chance to co-host.
I'm accident prone. I drip stuff on my shirt, I get food in my hair, I accidentally smear half of my eyebrow off with my huge, over-sized sunglasses. Yeah...that happens a lot. Here are just a few of the other dumb things I've done recently.
How about promising your kids a fun day at the beach...only to realize you didn't check the tide times & maybe 3 in the afternoon isn't a great time to head to the ocean with the kids.
Or getting to a friend's house (where they ask you to take off your shoes inside) only to discover you are wearing Disney Princess socks.
How about having to ask for help on how to remove a broken screw. (After using every tool you could find!)
No the saw didn't work. Actually, I'm happy to report that hitting it repeatedly with a hammer eventually broke it off.
Or how about when your kids challenge you to draw a tiger better than they can & you totally get SCHOOLED.
Can you guess which one is mine? (I'll give you a hint...it's the one that looks like it's wearing boots & is missing a nose...on the left).
Or when you think going from black to blonde hair will be easy...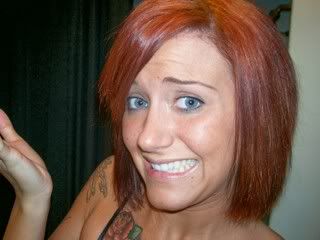 I'm also always saying the stupidest things to my husband. He then tells his friends & then I get teased forever about it.
Like when I mixed up The Everglades with Mount Everest (while watching The Discovery Channel) and I formed the sentence "Alligators don't live in the mountains!" Don't even ask me how that one happened.
Another time I was going over instructions with a babysitter I told her "If you want to use the internet, just use Internet Explorer." I thought I was being helpful by telling her that she didn't have to do anything else to get the internet working...ie...no having to log in or put a password in or anything. My husband and his friends still to this day mention something about "Internet Explorer" every once in awhile because they think I was being Ms. Smarty Pants to the sitter & had to explain to her how to use the internet. I know they are just giving me crap, but it's still embarrassing! It was 5 years ago.
So yeah, that's me & all of my stupidity! Hope you guys have fun linking up :) And thanks to Julie for letting me co-host!